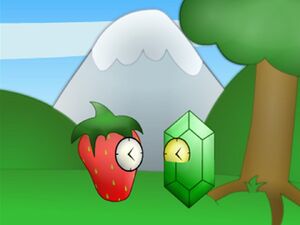 RupeeClock is a famous flash animator on Newgrounds. His first alias was "frOzen_fOx", and his first flash animation was "My Name Is Kyle". He soon became a Clock, known as "RupeeClock", because of his Zelda fandom. He changes colors for the sake of being random, and is often called a "furry" as an inside joke. He and StrawberryClock occasionaly beat up each other making it unknown who is the smarter of the two. In Strawberry Clock RPG 3 and 4 he plays main antagonist (he doesn't want Strawberry to get all the attention), trying to kill Strawberry. He loses quite easily in RPG 3 taking only 2 hits to kill. In RPG 4, he ,Orange clock, and Raspberry Clock team up to try and kill him. He is much more challenging despite his only attack being to throw Gameboy Advances. He has now quit the clock crew.
Community content is available under
CC-BY-SA
unless otherwise noted.